INNOVATIVE OLIVE MILL WASTE MANAGEMENT SYSTEMS
Workshop on November 1, 2002 in Mytilene

The disposal of Olive Mill Wastewater (and more general Olive Mill Waste - OMW) is one of the most troublesome environmental problems for the Mediterranean countries. OMW is characterised by its high organic load, low biodegradability and high polyphenol concentration. In an effort to tackle the problem, numerous research programmes both in Greece and abroad have applied different biological or physical-chemical methods both in vitro and in vivo. However, all come to the conclusion that no-one has come up with a satisfactory technical solution, at least not in the case of Greece, where the olive mills are scattered all over the territory and are mainly small businesses.
The NAIAS -North Aegean Innovative Actions and Support Programme is financed by the EU Regional Development Directorate-General and consists of several Actions. The mission of Action 7.6 is to attempt to bridge the gap by finding and suggesting effective and viable solutions. The Waste Management Laboratory (WML), led by Professor C. P. Halvadakis, an integral part of the Department of Environmental Studies of the University of the Aegean has undertaken Action 7.6 and its goal is to select technically sound, economic sustainable OMW Management Systems which are socially accepted. Furthermore, these systems aim to take the specificities of the North Aegean islands into account. The selected systems of waste management will be installed on a pilot basis on olive mills of the North Aegean. The construction costs of the waste management facilities will be co-financed, 50% of the budget will be met by the NAIAS Programme and 50% by the local olive mill owners through self-financing. In the meantime the WML staff will be creating a permanent Expertise Network on OMW Management issues with a website serving as a communication and know-how exchange portal.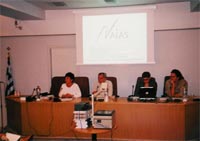 In order to inform businesses that may be interested in participating in NAIAS Action 7.6, the WML organised a workshop on November 1, 2002 in Mytilene where gave a presentation of the NAIAS mission (main speaker Dr. D. Komilis, University of the Aegean). The Workshop addresses issues related to the existing legal framework on Lesvos (Mrs. A. Stathelli, Prefecture of Lesvos), which was followed by a brief presentation of the following OMW management methods:
Chemical oxidization and anaerobic treatment of OMW (Associate Professor A. Vlyssidis, Technical University of Athens)
Use of the olive mill residue by separation of different solid fractions using the technique of supercritical fluid extraction (Professor K. Panayiotou, Aristotle University of Thessaloniki).
Recovery of phenolic compounds using membrane technology (Professor V. Gekas, Technical University of Crete).
Olive mill waste separation into fractions using natural sedimentation (Associate Professor D. Georgakakis, Agricultural University of Athens).
Combined treatment of municipal waste and olive mill waste in artificial wetlands (Dr. A. Aggelakis, National Agricultural Research Foundation of Iraklio).
Olive grove irrigation using Olive Mill Wastewater - Waste treatment with hydroponic systems (Dr. K. Hartzoulakis, National Agricultural Research Foundation of Chania).
Olive mill waste terrestrial disposal - Composting - Fertilizer production (Dr. I. Hatzipavlidis, Agricultural University of Athens).
Anaerobic OMW treatment with parallel production of Fertilizers and energy (Á. Andrian, Aquatec GmbH, Germany).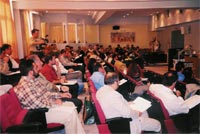 The presentations were followed by open discussions with olive mill owners of Lesvos and more details regarding the proposed waste management Systems were provided. The following conclusions were drawn:
There is no standard solution to the OMW problem. Each individual olive mill may adopt a different system of waste treatment and there is rich bibliography of the numerous approaches with a variety of pros and cons.
It is necessary to adopt integrated solutions for OMW management that take into consideration possibilities to restructure the production processes (so as to minimize the volume of waste produced) as well as the available waste treatment techniques that could be applied during the various stages of waste production (light fraction, heavy fraction, oily stage).
There are two primary approaches to the waste management issue: the centralized approach (one waste management facility for a large group of olive mills) and a decentralized approach (one waste management facility for each individual olive mill). The former is expected to have a high investment budget compared to the latter, however the overall cost per unit waste mass treated is expected to be lower. In addition, the implementation of the first approach mentioned requires a supply of waste from a minimum number of nearby olive mills. In the case of the decentralised approach, the proposed waste treatment techniques have a relatively low construction and operation cost but it requires the availability of large areas of land.
A waste management system that appears to be optimal in the case of individual olive mills is a system consisting of an initial phased separation tank followed by an extensive overflow treatment system (treatment lagoons/ponds, terrestrial disposal etc). The sludge may undergo biological treatment or be dehydrated and disposed of at waste disposal sites.
23 olive mill owners of Lesvos responded positively to the invitation to participate in the NAIAS Action 7.6 project, while the Prefecture of Lesvos (Local Self-government Authority of Lesvos) also reacted positively regarding its willingness to issue operation permits to olive mill owners who participate in the project.